More News
Land Trust Days: August – September 2013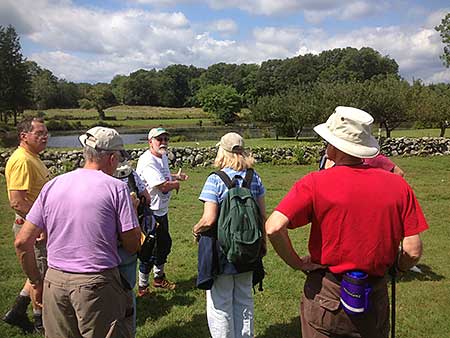 Walkers on a Land Trust Days outing in Hopkinton
Photo courtesy Helen Tjader, RI Land Trust Council
For this year's Land Trust Days events see RILandTrustDays.org.
Full moon walks, family festivals, storytelling around the campfire and walks through some of Rhode Island's most interesting landscapes – these were some of the highlights from 2013 Land Trust Days.
Governor Chafee and Mayor Taveras helped kick off the 2nd annual Land Trust Days on August 1 with a tour of Southside Community Land Trust's City Farm and Somerset Community Garden. During August and September, 37 land trusts and 16 partnering organizations held nearly 60 activities on protected properties across the state.
Over 2700 people attended one of the community festivals or one of the dozens of guided walks and other activities that were part of Land Trust Days this year. Land trust leaders volunteered over 2100 hours to organize and host Land Trust Day activities to encourage people to get outdoors and discover the wonderful properties that land trusts are protecting in communities across the state.
In August and September 2014, Land Trust Days will provide more opportunities to visit Rhode Island's special places. Until then, take friends and your family for walks and explore land trust trails on your own.