More News
Get Outdoors During Land Trust Days!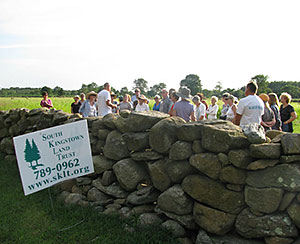 History and stonewall geology walk at the South Kingstown Land Trust
photo courtesy of South Kingstown Land Trust
For this year's Land Trust Days events see RILandTrustDays.org.
Land Trust Days kicked off on August 1st at the Southside Community Land Trust in Providence. Come join us for one or more of the 60 guided walks and events through the scenic views, green spaces, and working farms that are Rhode Islandís 47 land trusts.
You can enjoy trail walks, festivals, full moon walks, storytelling around a campfire, farm tours, scavenger hunt, geocaching and more at these activities running through the end of September. Check out the full calendar, event map and roster of events at RILandTrustDays.org.
The events have something for everyone to enjoy and provide the perfect introduction to some of Rhode Island's most scenic places. Land Trusts have been protecting land in communities around the state since the early 1970s to preserve their unique qualities for the enjoyment of all Rhode Islanders. These are some of the most beautiful natural areas the state has to offer, yet are still hidden gems. Rhode Island Land Trust Council — the statewide coalitionof land trusts — is coordinating Land Trust Days so that Land trusts across the state can share their accomplishments, showcase these special places and help the public discover these local treasures. Join us at events near your home— they're closer than you think. And then check out land trusts activities across the state to see the variety of Rhode Island's scenery.
A hot dog roast completes the day hike at the South Kingstown Land Trust.
photo courtesy of South Kingstown Land Trust
No matter what experience level or age you are, Land Trust Days has something to offer. These events provide the perfect introduction to land trusts' walking trails. We invite you to bring your friends, your family, and your enthusiasm to Land Trust Days 2013! These activities, games, and tours, are perfect events for a summer day, and many who attended last year's Land Trust Days find themselves returning to now familiar trails to show their friends and families.
We challenge every Rhode Islander to get outdoors and attend a Land Trust Days event. Everyone who attends 4 or more activities can enter into a drawing for a prize. And the person who attends the most Land Trust Days events will win a prize. Go to RILandTrustDays.org to:
see the full roster and calendar of events;
sign up for reminders and updates on Land Trust Days activities; and
learn how to enter the contest.
Attend as many activities as you can over the next eight weeks. Then plan to join us for the closing celebration to learn who will win the challenge prizes. It's Sunday, September 29 at the Waheetna Preserve in Westerly. More information on Land Trust Days and how to sign up for "the challenge" is available at our website: RILandTrustDays.org.
This article was originally published (in a modified form) in the Spring/Summer 2013 edition of Trail Mix, the Newsletter of The Greenways Alliance of Rhode Island. RI Blueways thanks the Greenways Alliance for giving us permission to republish this articles