Centreville Pond (Pawtuxet River) Fishing and Canoeing Area
41° 41.743' N 71° 31.348' W See this location in: Google Maps Map Server Acme Maps
Google Maps is the mapping system used on the new ExploreRI mapper and shows the access site located on a terrain view, a street map or an aerial photograph. Clicking on this link will take you to the full Google Maps website, which is not part of ExploreRI.
Map Server shows a topographic map of the area. The Map Server website is not part of ExploreRI.org.
Acme Maps shows the access site located on a topographic map. The Acme Maps website is not part of ExploreRI.org.
This is a site for launching hand-carried boats such as canoes or kayaks.
Description & Overview:
While this put-in is in a very busy area of West Warwick, you just need to go a little ways up-river to find yourself paddling up a peaceful, tree-lined river. You can only go about a mile before you will come to a dam blocking your way, but for most of that distance the river runs through woods, with the roads and houses as much as 500 feet away on both sides. When you get to the next dam up river, turn around and paddle back down to the put-in. At normal water levels the current is very slow so paddling up-river should not be a problem, but when the river is high in the spring or after a heavy rain there can be enough current to make it hard or impossible to paddle up-river. Do not put in if you have any doubt about being able to paddle up-river. Do not go down-river (under the bridge) from this put-in as there is a dam 400 feet down-river that you could get swept over!
This site provides access to the following water bodies in the Pawtuxet River watershed: Pawtuxet River.
Location:
Town: West Warwick
Nearest Town Center: West Warwick
Driving Landmarks: This put-in is at the busy junction of RI 117 (Legris Ave./Centerville Road) and Main Street in West Warwick. The put-in is in a small grassy park just above the Main Street bridge over the South Branch of the Pawtuxet River. Almost straight across Main Street from Legris Avenue there is a small driveway for the Pawtuxet River Authority, next to the park.

It is reportedly OK to pull into this driveway and then pull onto the grass and park there. Please drive carefully on the grass and please do not park in a way that blocks other vehicles parked here.

Otherwise, since there is no parking on Main Street or Legris Avenue your other option for parking is to find a legal parking space on one of the nearby side streets such as Centre Street, which runs south from Legris Avenue, behind Roch's Fruit and Produce. Please do not leave your car in and the parking lot for Roch's Fruit and Produce.
Access & Waters:
Water 'Features' At Site: flatwater/slow moving river, Do not go downriver (under the bridge) from this put-in as there is a dam 400 feet down-river that your boat could get swept over!
Note: Because one boat launch can access, say, both a lake and a river or both the upstream and downstream portions of a river, not all paddling trips at a given site will necessarily encounter all of the features listed.
Type of Access: Boat launch for hand carried boats
ADA Accessible Boat Launch? no
Shoreline: A gravel boat launching area has been built into the river bank.
Float/Dock: no
Approximate Length of Carry between Car Access and Water: 100 feet
Parking:
Parking: on street
Ecological, Cultural & Recreational Attractions:
There is also a small fishing platform in the park, near the put-in.
Photographs: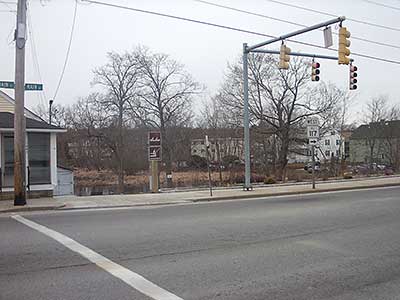 View of Launch Access from Across Main Street
Photography by: Bruce Hooke
Date of Photograph: March 16, 2013
The two brown signs in the middle of this photograph mark the access to the park and put-in. The driveway mentioned above is between the brown signs and the building.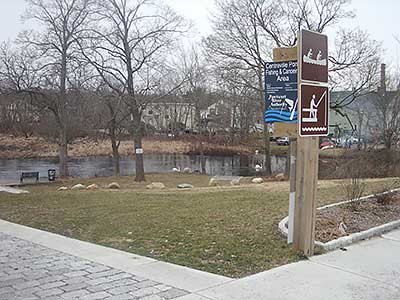 Park and Put-in Viewed from the Sidewalk
Photography by: Bruce Hooke
Date of Photograph: March 16, 2013
The park and put-in with the river beyond, on a gray spring day. The put-in is at the small gravel area in the center of this photograph. At the left edge of the photograph is a small fishing platform.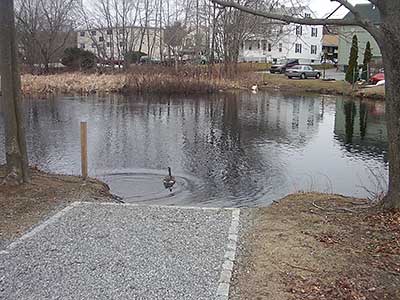 Launch Area with the River Beyond
Photography by: Bruce Hooke
Date of Photograph: March 16, 2013
A close-up view of the put-in. There is more gravel sloping down into the river beyond the stone step (the line of stones). In the summer the trees would hide more of the houses in the area.

Do you have comments, corrections or additions to the information about this site?
Please help us work together to make this website better by sharing your knowledge! Give Private Feedback or Post a Public Comment. Private feedback goes to the Blueways Alliance and we'll then try to use your information to make this website better or get it to the people who can deal with physical issues at this site. Public comments are posted here (once they've been reviewed and approved) for all to see.
The data on this website come from many sources, including volunteers and organizations across the state of Rhode Island and nearby parts of Massachusetts. We have done our best to make sure the data are accurate and up to date, but any information critical to the success of your trip should be confirmed before you start. The maps and information on this website should not be substituted for nautical charts, topographic maps, or other more detailed maps and guides. We welcome corrections and additions. To send a correction or provide other feedback, please use our feedback form (see link above).
This site report was last updated on June 9, 2013