Crawley Preserve
, Richmond
Richmond Rural Preservation Land Trust

Hunting is not allowed here but it is permitted on nearby land. During hunting season everyone using the trails here should wear blaze orange. Remember, hunting season includes much of the late fall, winter and spring. More details.
In Rhode Island the primary hunting seasons typically run from the second Saturday in September to the last day of February and from the third Saturday in April to the last day in May, however this can vary from year to year and depends on what game is being hunted. During hunting season you should wear at least 200 square inches (a hat OR a vest) of blaze orange. During shotgun deer season, which is typically in December, you should wear at least 500 square inches of blaze orange (a hat AND a vest). For more information see the RI DEM website.
Description & Overview:
This is a pleasant, 100 acre property that borders the Richmond/South Kingstown line. The trails are great for family hikes or walking your dog. The Crawley Trail (the main trail) is 4 feet or wider and good for equestrian use. Brook Trail is a 1 person foot path in some areas and does not allow horses. The trails do have some elevation gain (about 200 feet) and the footing is rough in spots. The most interesting trail, the Brook Trail, crosses a small, unnamed stream twice, on bridges built by the Richmond Rural Preservation Land Trust (RRPLT). It circles around an interesting rock outcropping, and crosses through beech woods until it meets up with the Crawley Trail. The Crawley trail is wide with good footing. There are several small side trails that lead to adjacent private properties. A nice loop hike using the Brook and Crawley trail would be about 2 miles.

The property is a mix of hardwood habitats with a small unnamed stream and intermittent stream that drain to the Queen/Usquepaugh River to the east. The woods contain primarily oaks, with American beech and hickory species. The dry upland understory is made up of huckleberry with some mountain laurel and American holly. The northwest corner of the property has perched water table that provide the flow for the two streams.

The property was originally owned by the Crawley family. They used it as a weekend retreat from the city. The grandparents left the property to their grandchildren after the death of their only son. The family decided to sell the property in the early 2000's to raise money for the grandchildren's education. However, because of their fondness for the property they wanted it preserved in its natural state. RRPLT and the South Kingstown Land Trust worked together to raise funds and purchased the property in 2003. The Nature Conservancy and abutting neighbors contributed to the purchase. While both land trusts own the property jointly, RRPLT is the primary steward and manager.

The property contains old cellar holes and foundations, and stone walls from its former life as a farm. There are several areas where the farmers used the ledge to form part of the walls to enclose livestock. The rock outcroppings off the Brook Trail have a view of URI when there are no leaves on the trees.
Richmond Rural Preservation Land Trust web page
What's There:
Hours: Sunrise to sunset, all year
Miles of Trails: 2 miles
Miles of ADA Accessible Trails: None
Trail Width: Varies from 4 feet or wider on the Crawley Trail to a one person footpath on the Brook Trail.
Trail Rating: Moderate Explanation
Trail Rating Key
Easy: Trails are relatively smooth and the route is quite obvious such as a single point to point trail or an easy network of trails in an urban or suburban setting where help is always readily at hand. A map may be useful but is not necessary.
Moderate: Somewhat more strenuous trails or harder to follow trails. Trails are well-marked but following them requires a trail map and a trail map is readily available either at the site or online.
Difficult: Strenuous trails, trail systems that mostly involve multi-mile loops and trail systems where there is no available trail map or the trails are not marked.
Skiing/Snowshoeing: Yes
Are Dogs Allowed? Yes. Must be on leash.
Is Horseback Riding Permitted? Horses are permitted on all trails except for the Brook Trail (yellow blaze).
Are Bicycles (non-motorized) Permitted? No
Is Hunting Permitted? Hunting is not allowed on this property but is in nearby areas. Walkers wear orange during hunting season!
Other Amenities: There are no restrooms or other amenities.
Trailhead:
Coordinates: 41° 30.55' N 71° 36.5' W See this location in: Google Maps Acme Maps
Google Maps is the mapping system used on the new ExploreRI maps and shows the trailhead located on a terrain view, a street map or an aerial photograph. Clicking on this link will take you to the full Google Maps website, which is not part of ExploreRI.org.
Acme Maps shows the trailhead located on a topographic map. The Acme Maps website is not part of ExploreRI.org.
Driving Landmarks: From Rt. 138, Kingstown Road, in South Kingstown, head north onto Old Usquepaugh Road. After the you pass the Kenyon Grist Mill, this road turns into Glen Rock Road. The trailhead is 0.3 miles from here, on the left (west). It is a dirt drive that leads into a small parking area.
Parking: Yes: Parking lot, 7 spaces, no overnight parking
ADA Accessible Parking Spaces? No
Photographs: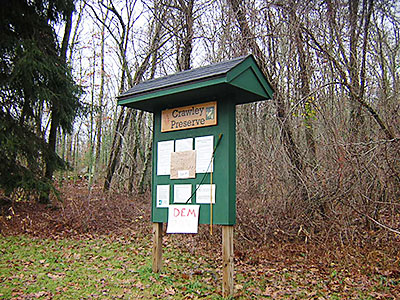 Crawley Preserve Trailhead
Photography by: Denise Poyer
Date of Photograph: November 16, 2008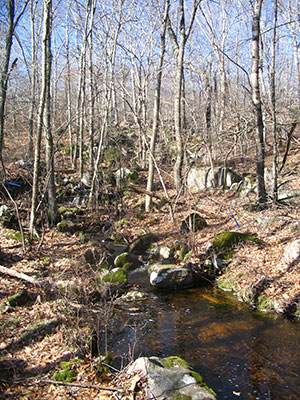 Falls
Photography by: Denise Poyer
Date of Photograph: March 21, 2008
A cascade in the stream that flows through the Crawley Preserve.
Dwarf Ginseng at the Crawley Preserve
Photography by: Denise Poyer
Date of Photograph: July 8, 2007

Do you have comments, corrections or additions to the information about this site?
Please help us work together to make this website better by sharing your knowledge! Give Private Feedback or Post a Public Comment. Private feedback goes to the Blueways Alliance and we'll then try to use your information to make this website better or get it to the people who can deal with physical issues at this site. Public comments are posted here (once they've been reviewed and approved) for all to see.
The data on this website come from many sources, including volunteers and organizations across the state of Rhode Island and nearby parts of Massachusetts. We have done our best to make sure the data are accurate and up to date, but any information critical to the success of your trip should be confirmed before you start. The maps and information on this website should not be substituted for topographic maps or other more detailed maps and guides. We welcome corrections and additions. To send a correction or provide other feedback, please use our feedback form (see link above).
This site report was last updated on December 11, 2017