Go Paddling:

ExploreRI has information on fresh and saltwater paddling in RI and the Narragansett Bay watershed, from the Blackstone to the Wood-Pawcatuck, to the Taunton River in Massachusetts! Here are some ways to find your next paddling destination and paddle safely:
Go for a Walk:

ExploreRI has information about walking trails all across Rhode Island, from Newport to Glocester and Westerly to Little Compton. Whether you want a casual, easy walk for a sunny Saturday afternoon, or a more challenging day-long hike, there's a trail here for you!
Winter Paddling Warning:

Winter is still here and while it may look tempting to head out for some cold weather paddling, only experienced paddlers with appropriate gear and training should be on the water during the "cold water season." Rhode Island's waters cool off during the fall and don't really warm up again until early summer. During this time gear such as wet suits or dry suits are an essential part of a paddler's gear. So, please enjoy Rhode Island's beauty safely during the winter and if you are not prepared for cold water paddling, leave the boats in storage until next summer; and always, always: Remember to wear your life jacket!


The original funding for the ExploreRI website was provided by the Rhode Island Rivers Council. The National Park Service Rivers and Trails Program helped launch the project and continues to provide important input and assistance. For information about the Rhode Island Blueways Alliance, which now leads this project, see the about us page.

National Geographic Names Rhode Island's Blueways a "Best Adventure Destination for 2012"
Read the write-up on the National Georgraphic website and get out and paddle Rhode Island's Blueways! We have put off until next summer the led trips along the new water trails so stay tuned for more information in the spring.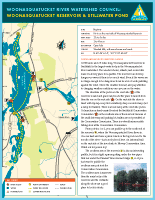 26 Paddling Trail Maps!
See the Water Trails page for 26 paddle trail maps for paddling routes across Rhode Island! There are trips for all skill levels, all across the state, on rivers and lakes and salt ponds, all! These maps were created in partnership with ten watershed organizations across the state, with funding from the Rhode Island Foundation.
You can also see the water trail routes on our mapping system, and then click on the routes to get the detailed water trail maps.
Hunting Season Reminder

Remember, in Rhode Island all users of state management areas and other designated undeveloped state parks must wear at least 200 square inches (e.g., a hat or vest) of solid daylight fluorescent orange clothing from the third Saturday in October to the last day of February and from the last Thursday in April to the last day in May, except during shotgun deer season (generally in December) when all users must wear 500 square inches of solid daylight fluorescent orange clothing (e.g., a hat AND a vest). For more details contact RI DEM or the park or management area you plan to visit.
In Massachusetts non-hunters are not required to wear hunter orange, but it is highly recommended, especially during deer season (generally in December). You should also wear hunter orange (a cap or vest) in late October and November if you are on or near state lands that are stocked with pheasants or quail. Hunters ARE required to wear hunter orange during these seasons and should check the Massachusetts regulations to make sure they know the exact requirements. Hunting is not allowed on Sundays in Massachusetts.
Note: The above information is designed to provide non-hunters with a general overview of the requirements for wearing blaze orange during hunting season. There are numerous special regulations in the hunting laws so check the official state websites for the exact rules, requirements and dates when blaze orange is required or recommended. And remember, it never hurts to wear blaze orange so when in doubt wear your orange vest and hat! Here's a video that shows how effective blaze orange is at making you visible to hunters.