Go Paddling:

ExploreRI has information on fresh and saltwater paddling in RI and the Narragansett Bay watershed, from the Blackstone to the Wood-Pawcatuck, to the Taunton River in Massachusetts! Here are some ways to find your next paddling destination and paddle safely:
Go for a Walk:

ExploreRI has information about walking trails all across Rhode Island, from Newport to Glocester and Westerly to Little Compton. Whether you want a casual, easy walk for a sunny Saturday afternoon, or a more challenging day-long hike, there's a trail here for you!
The Water is Still COLD!

Spring is here and summer is coming but please remember that the water warms up much more slowly than the air and so the water (especially in the ocean/bay but also in rivers, lakes and ponds) is still very cold. So, when heading out to go paddling please remember to wear clothing that will keep you warm even if you get wet (e.g, a wetsuit or drysuit or at a minimum wool or synthetics) and use extra caution, especially on the bay and on larger lakes and rivers, and always, always: Remember to wear your life jacket!


The original funding for the ExploreRI website was provided by the Rhode Island Rivers Council. The National Park Service Rivers and Trails Program helped launch the project and continues to provide important input and assistance. For information about the Rhode Island Blueways Alliance, which now leads this project, see the about us page.

National Geographic Names Rhode Island's Blueways a "Best Adventure Destination for 2012"
Read the write-up on the National Georgraphic website and get out and paddle Rhode Island's Blueways! We have put off until next summer the led trips along the new water trails so stay tuned for more information in the spring.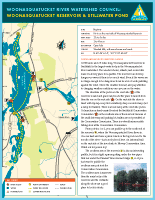 26 Paddling Trail Maps!
See the Water Trails page for 26 paddle trail maps for paddling routes across Rhode Island! There are trips for all skill levels, all across the state, on rivers and lakes and salt ponds, all! These maps were created in partnership with ten watershed organizations across the state, with funding from the Rhode Island Foundation.
You can also see the water trail routes on our mapping system, and then click on the routes to get the detailed water trail maps.