Fisherville Brook Wildlife Refuge
, Exeter
Audubon Society of Rhode Island
Description & Overview:
The Audubon Society of Rhode Island's largest public property contains 1010 acres of fields, diverse forest habitats, pond, streams (including a lovely waterfall), and a historic cemetery. Wonderful scenery and pleasant hiking opportunities make Fisherville Brook well worth the visit. The refuge has a grand history, and is a great pride to ASRI.
Fisherville Brook Refuge page on the ASRI website
What's There:
Hours: Dawk to dusk, year round
Miles of Trails: 5 miles
Miles of ADA Accessible Trails: None
Trail Width: Typical one person footpath
Trail Rating: Moderate Explanation
Trail Rating Key
Easy: Trails are relatively smooth and the route is quite obvious such as a single point to point trail or an easy network of trails in an urban or suburban setting where help is always readily at hand. A map may be useful but is not necessary.
Moderate: Somewhat more strenuous trails or harder to follow trails. Trails are well-marked but following them requires a trail map and a trail map is readily available either at the site or online.
Difficult: Strenuous trails, trail systems that mostly involve multi-mile loops and trail systems where there is no available trail map or the trails are not marked.
Skiing/Snowshoeing: Yes
Are Dogs Allowed? No
Is Horseback Riding Permitted? No
Are Bicycles (non-motorized) Permitted? No
Is Hunting Permitted? No
Public Transportation & Bike Paths:
For driving directions see the trailheads information below.
Public Transit: No
Bike Path Access: No
Trailhead:
Coordinates: 41° 35.395' N 71° 34.217' W See this location in: Google Maps Acme Maps
Google Maps is the mapping system used on the new ExploreRI maps and shows the trailhead located on a terrain view, a street map or an aerial photograph. Clicking on this link will take you to the full Google Maps website, which is not part of ExploreRI.org.
Acme Maps shows the trailhead located on a topographic map. The Acme Maps website is not part of ExploreRI.org.
Driving Landmarks: Take Route 95 to Route 4 to Route 102 north. Turn right onto Widow Sweets Road (just after the Exeter's Town Clerk's Office and across from Anderson's Place). A brown "Audubon Wildlife Refuge" sign marks this turn. Take the second right onto Pardon Joslin Road (a dirt road). Travel approximately 1 mile. Parking lot is on the right side of road by a large Fisherville Brook Wildlife Refuge sign.
Parking: Yes: Parking lot, no overnight parking
ADA Accessible Parking Spaces? No
Photographs: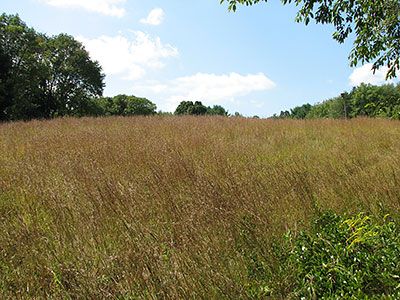 Meadow at Fisherville Brook Wildlife Refuge
Photography by: Scott Ruhren
Date of Photograph: September 14, 2011

Do you have comments, corrections or additions to the information about this site?
Please help us work together to make this website better by sharing your knowledge! Give Private Feedback or Post a Public Comment. Private feedback goes to the Blueways Alliance and we'll then try to use your information to make this website better or get it to the people who can deal with physical issues at this site. Public comments are posted here (once they've been reviewed and approved) for all to see.
The data on this website come from many sources, including volunteers and organizations across the state of Rhode Island and nearby parts of Massachusetts. We have done our best to make sure the data are accurate and up to date, but any information critical to the success of your trip should be confirmed before you start. The maps and information on this website should not be substituted for topographic maps or other more detailed maps and guides. We welcome corrections and additions. To send a correction or provide other feedback, please use our feedback form (see link above).
This site report was last updated on December 11, 2017