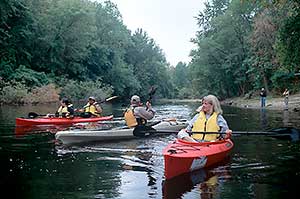 Join the Blueways Alliance!
Help us continue this project and make it even better by becoming a member! Your support will help us run our annual celebration of paddling the Blueways, help us pay the costs of maintaining and expanding this website, and help us continue other projects that we have underway to encourage and support recreational paddling in Rhode Island and throughout the Narragansett Bay Watershed. Thanks!
Join our Mailing List!
If you are interested in hearing about Blueways events and updates, use the form below to add your name our mailing list. We do not send out a lot of emails; just occassional event annoucements and news updates. We also do not sell or give out our mailing list.
The city, state, zip code and phone number (and organization) are all optional. We ask for this information in case we might want to reach out to someone who might have local knowledge about a particular blueway or greenway. Thanks!
If you are interested in being on our mailing list, please fill out the form below!