More Stories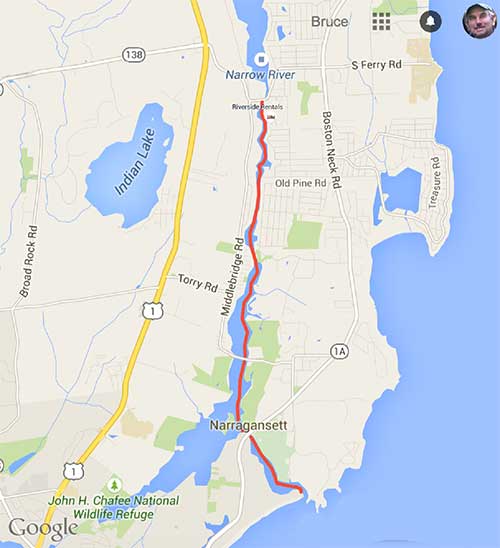 Narrow River Delight
Bruce Campbell, a Rhode Island Blueways Alliance board member
Today is the second full day of summer. As a rather stubborn Nordic weather aficionado, I am pleased Spring has not produced many days over 75°F here in Rhode Island. I find myself slightly out of shape after a strong, viable local x-country skiing season left me in pretty good shape coming into Spring. The weather was wonderful in April and May but I did not get out as much as I would have liked. Work has a funny way of distracting me from outdoor plans all too often.
But, not to worry. Today is a day my wife and I look forward to every year. The day we choose to do an annual paddle to the sea on the Narrow River in Narragansett. We have a tandem kayak and it's all cleaned out for the start of paddling season. We have never started off the paddling season with the Narrow River paddle but the tides are in our favor today. The tide chart suggests that high tide crests at 12:51pm in the afternoon. We can use the outgoing tide in our favor to make our way south with the tide. We're keen to actually do a healthy amount of paddling so we enter the water at 1:20pm; just a half hour after crest, and we barely notice any assistance from outgoing current.
This paddle has become more popular every year since we started padding it seven years ago when I was introduced to the river by fine folks at the Narrow River Preservation Association. The number of paddlers in the water with us suggests that numbers are up. Last year we noticed a dramatic increase, with double the number of paddlers and a dominant ratio of eight human powered craft for every motor-powered one. We counted fifty-four unique paddle craft in the water during our paddle down and up the river. The first time we paddled this route, we only counted seven. The count probably goes up on a fine weekend day and as a result we always choose a weekday to do our paddle.
The density of paddlers looks similar to last year as we prepare to enter the water from where the Narrow slips under the Bridgeton Road bridge. The tide is high and so slipping into the water is easy. We know from experience that we'll come out with mud on our feet. The plan is to come back north to here around the time when low tide bottoms out at 6:15pm and access to Bridgeton Road on the west bank will require carrying our kayak some ten meters through muddy low water so as not to bother the sea grasses along the shore. It's comfortable for me to do barefoot but my wife prefers her paddle footwear. The paddlers we see up north here appear to have rented from Riverside Rentals which provides access on the east bank for those who rent.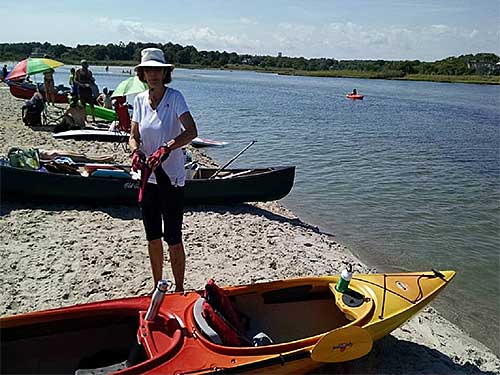 Photo Credit: Bruce Campbell
Entering from the west bank, we know we're on the side of the river that motorized craft want to use as the main channel swings west after coming out from under the bridge. It's not stressful to cut across the channel when the coast is clear and our arms are fresh. It can be a different story if we aren't smart with the tides and have to fight our way north against freshwater current and emptying tide. In that case we usually head all the way to the bridge and cross one segment of bridge at a time when the coast is clear, just in case our arms give out a bit.
There is an alternative canoe and kayak put in which is well-described on the exploreri.org website. We like just a slightly longer paddle than that proposed route and so we start from a bit further north. We also head east at the Narrows to head over to the beach (the trail map suggests a loop of Pettaquamscutt Cove is a lovely way to go). To pay for our tastes, we have to get across the main channel in a manner that takes more work than if we took the Middle Bridge Road put-in.
We've always been blessed with wonderful weather for our annual Narrows day. Today is no exception. The sun is bright but we have sunglasses and headwear to counteract it. We see bird life all the way down the river. Plenty of gulls in the area. A couple of blue heron. Three white egrets standing by the tall grass on the east bank where we are used to seeing them. Other smaller birds, not usually considered waterfowl, are frolicking in the skies overhead. We have never been disappointed with the bird scene on the Narrow. We people watch with only slightly less enthusiasm. We're pleased that there is a collective joy of the outdoors among bird and human today.
What makes the Narrow paddle so unique for us is the transition we encounter from grass and muddy river banks to sandy beach banks as we head south. That transition is unique compared to all our usual paddles up north in Rhode Island (our regular Woonasquatucket, Blackstone, Pawtuxet, and Seekonk paddles). We feel a real, palpable anticipation to get out of the boat as soon as the sand gets inviting and yet we stay in the boat admiring the unique experience that paddling among sand banks and over a sandy bottom provides. I enjoy investigating micro-currents and almost imperceptibly changing flow patterns.
The paddle south has taken us just short of two hours. We've been very slow and luxurious in our effort knowing we can always make up any paddle exercise we want on the way back (including paddling north beyond where we put in should we still have much capacity left in our back and arm muscles). It's been a while since we've been on a beach and so we are quick to pull up on the sand as soon as the waves of the ocean can be seen ahead of us. We also didn't want to mess with the waves breaking across the mouth of the river where the outgoing tide meets the ocean. We're within fifty meters of the open ocean and have three hours to catch up on some beach time. The scene at the eastern end of Narragansett Beach is tranquil and restful as most of the beachgoers are well west of us. Usually, on our Narrows day, an occasional jet ski or small motorized boat comes by while we're letting the surf take our minds away but today there are none. We've found the motorized folks to be thoughtful of our use of the river and that feels like a great change since eight years ago when we imagined being annoying newcomers to long-time motorized users of the river.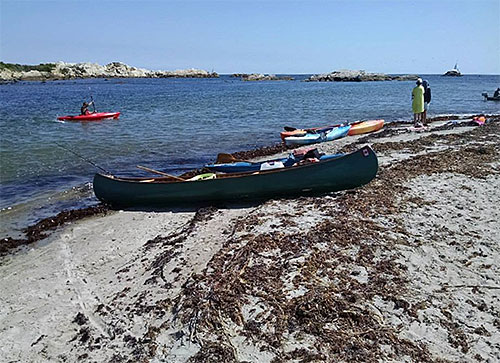 Photo Credit: Bruce Campbell
At 6:00pm we are ready to head back north. I must admit to having swum upstream a few times during peak out-current and having let myself be dragged by the current as so many young people do while we are sitting nearby. I also take a swim out by the rocks that sit south of the beach. Another couple comes by in their sea kayak to comfortably explore the rocks at low tide. We have a pleasant conversation about the wonderful feel the day is proving. No doubt this is going to be a fine summer if it continues like this.
The paddle north is fifty minutes worth of exercise. My wife and I hit our stride and move at more than twice the pace at which we came downriver. We head north of our put in as the day suggests it's to early to end. One benefit of a peaceful beach day is that it tends to stay with us. Even though my body is paddling north, my mind is still behind me on the beach — or at least some beach as many beach memories come to mind from various beaches around the world I've been privileged to visit. No matter which ones I try to remember details about (Waikiki, Bondi, Stinson, Torremolinos, Luquillo, and Kaikoura all come to mind), I find myself willing to go to bat for Rhode Island's beaches being just as world class — with plenty of variety for everyone based on their preferences. And yet, I've learned enough in life to try to preserve the local places for the benefit of the local community first and foremost — which reminds me I'm due to engage my own personal cove at Beaver Tail the latter part of next week. Too bad we aren't quite brave enough or in shape enough to paddle there, but we're sure there will be plenty of paddling this summer, all in all. The Narrow paddle is never one that suggests enough is enough.