Olney Pond (Boat Ramp) - Lincoln Woods
41° 53.363' N 71° 25.692' W See this location in: Google Maps Map Server Acme Maps
Google Maps is the mapping system used on the new ExploreRI mapper and shows the access site located on a terrain view, a street map or an aerial photograph. Clicking on this link will take you to the full Google Maps website, which is not part of ExploreRI.
Map Server shows a topographic map of the area. The Map Server website is not part of ExploreRI.org.
Acme Maps shows the access site located on a topographic map. The Acme Maps website is not part of ExploreRI.org.
This is a site for launching boats from trailers. Boat ramps can normally be used to launch canoes and kayaks but please do your best to keep the boat ramp clear for boat trailers.
Description & Overview:
RI DEM in partnership with The Nature Conservancy is making some major improvements to this boat ramp in the spring of 2021. The new ramp will be a 12-foot wide, single-lane concrete ramp with an adjacent row of floating docks and a concrete abutment that allows for easier launching and retrieval of vessels for boaters of all abilities. A second T-shaped dock anchored to the shore will include an ADA-compliant canoe and kayak launch, providing universal access for paddling enthusiasts. A newly paved parking area will also be built with ADA-designated spaces, including one for trailered vehicles.

The ramp will close for construction in February 2021 and should be open again by Memorial Day.

Olney Pond is the 128-acre reservoir that forms the heart of Lincoln Woods State Park, a 627-acre park just a few miles north of downtown Providence. There are various places around the shoreline where hand carried boats could be launched, however, the best location is on the east side where there is cement plank boat ramp suitable for launching trailered boats as well as hand carried boats.

The boat ramp here is fairly basic: just concrete "planks" set into the gravel lake bed. But since there is a 10 H.P. limit on all outboard motors used on the pond nobody should be launching a large boat here. No motors at all are allowed on holidays and weekends from Memorial Day through Labor Day.

The road to the parking lot for the boat ramp is a bit rough, but the parking lot itself is in good condition (as of May 2014).

Despite its proximity to Rhode Island's major population centers, the pond is quite scenic with tree-lined shores, large boulders, rocky outcroppings, various small islands dotting the pond, and many small coves to explore. The park is popular at all times of year so this is not a place to get away from people on a nice weekend or even a nice summer weekday, but it is a pretty pond very close to Providence and the convoluted shoreline makes the pond feel larger than it is.

This area is stocked with trout several times throughout the year.
This site provides access to the following water bodies in the Moshassuck River watershed: Olney Pond.
Location:
Town: Lincoln
Driving Landmarks: From Route 146 North take the Twin River Road exit and turn left at the end of the ramp. From Route 146 South take the Twin River Road exit and turn right at the end of the ramp.

Follow Twin River Road into Lincoln Woods State Park and when you come to the T-junction just inside the park turn right. Follow this one-way road for 1.4 miles, past the large parking lot for the beach and on around the pond to where there is a marked turn-off on the left for the boat ramp. To get back out of the park you can continue to follow the one-way park loop road around the pond back to the entrance.

You can also get to the boat ramp by coming in the entrance from Route 123, Great Road.
Access & Waters:
Water 'Features' At Site: lake/reservior
Note: Because one boat launch can access, say, both a lake and a river or both the upstream and downstream portions of a river, not all paddling trips at a given site will necessarily encounter all of the features listed.
Type of Access: Boat ramp
ADA Accessible Boat Launch? no
Shoreline: Cement plank boat ramp
Float/Dock: no
Hours of Operation: Sunrise to sunset, year-round (road near boat ramp closed in winter)
Fees: No fee to enter park or use boat ramp. There are fees for some on-land facilities.
Parking:
Parking: yes: 40 spaces, no overnight parking
ADA Accessible Parking Spaces? no
Nearby Amenities:
Public Restrooms: In the summer there are restrooms at various locations in the park
Outfitter: REI rents kayaks and also runs a kayak school on Olney Pond in the summer months. See the outfitters list for more details.
Sources for More Information:
AMC Quiet Water Canoe Guide: 2nd Edition, page 178
Website: Rhode Island State Parks web page for Lincoln Woods State Park
Ecological, Cultural & Recreational Attractions:
Lincoln woods has many amenities including picnic areas, a swimming beach, walking trails, playing fields, horseback riding trails, and mountain biking trails. REI runs a kayak school here in the summer. In the winter, Olney Pond is popular for ice fishing and ice skating.
Photographs: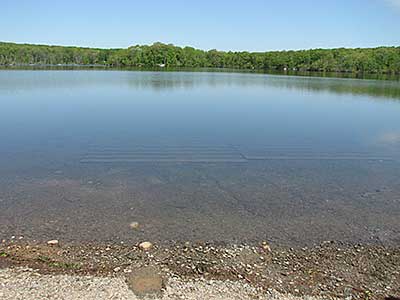 View Across the Pond, with the Boat Ramp in the Foreground
Photography by: Bruce G. Hooke
Date of Photograph: May 21, 2014
This photograph was made in the spring when the lake level was unusually high.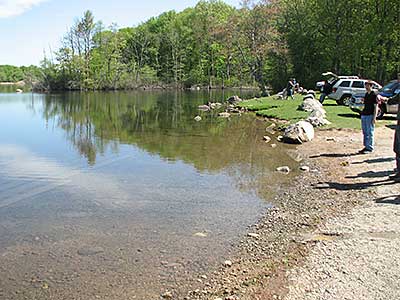 View North from the Boat Ramp
Photography by: Bruce G. Hooke
Date of Photograph: May 21, 2014
This photograph was made in the spring when the lake level was unusually high.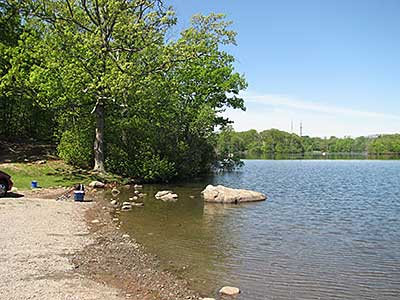 View South from the Boat Ramp
Photography by: Bruce G. Hooke
Date of Photograph: May 21, 2014
This photograph was made in the spring when the lake level was unusually high.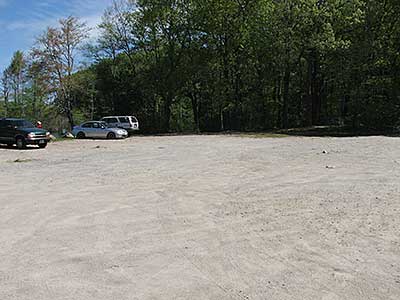 The Large Gravel Parking Lot
Photography by: Bruce G. Hooke
Date of Photograph: May 21, 2014

Do you have comments, corrections or additions to the information about this site?
Help us work together to make this website better by sharing your knowledge!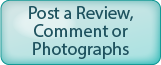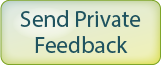 Private feedback goes to the Blueways Alliance/RI Land Trust Council. We'll use your information to make this website better or pass it along to the people who can deal with physical issues at this site. Public comments are posted here (once they've been reviewed and approved) for all to see.
The data on this website come from many sources, including volunteers and organizations across the state of Rhode Island and nearby parts of Massachusetts. We have done our best to make sure the data are accurate and up to date, but any information critical to the success of your trip should be confirmed before you start. The maps and information on this website should not be substituted for nautical charts, topographic maps, or other more detailed maps and guides. We welcome corrections and additions. To send a correction or provide other feedback, please use our feedback form (see link above).
This site report was last updated on January 29, 2021