Summer Street Bridge
41° 56.863' N 70° 56.201' W See this location in: Google Maps Map Server Acme Maps
Google Maps is the mapping system used on the new ExploreRI mapper and shows the access site located on a terrain view, a street map or an aerial photograph. Clicking on this link will take you to the full Google Maps website, which is not part of ExploreRI.
Map Server shows a topographic map of the area. The Map Server website is not part of ExploreRI.org.
Acme Maps shows the access site located on a topographic map. The Acme Maps website is not part of ExploreRI.org.
This is a site for launching hand-carried boats such as canoes or kayaks.
Description & Overview:
The Summer Street Bridge in Bridgewater provides excellent access to the Taunton River for hand-carried boats. The river here is deep and slow moving and goes through a deep forest, well living up to its Wild & Scenic designation (assuming you read "wild" to mean "natural" rather than "challenging" because the river is general slow moving and easy to paddle).

If you want to, you can paddle upriver for many miles to Cherry Street and beyond. For more details see the description for Cherry Street.

Paddling downriver from Summer Street, the river is broad and slow moving as far as Titicut Street, 1.8 miles below Summer Street. At Titicut Street, if you want to continue downriver or even take out at the usual take-out at Titicut Street you will need to run a short section of class I rapids under the Titicut Street Bridge. After these rapids the river smooths out again quickly and you can paddle all the way to Taunton and beyond if you want to. There are a couple more short sections of rapids between Titicut Street and Taunton but the rapids at Titicut Street are typically the largest of the three. Another hazard to be aware of, especially below Route 44, is rocks just below the surface of the water. These rocks are sometimes visible but often not and if you hit one at the right angle it could flip your boat if you are not careful.

Below the rapids at Pratts Bridge the river starts to become tidal so you can expect the river to rise and fall throughout the day. So, when pulling boats up onto the shore, make sure they are far enough up that a rising tide will not float them off and to be safe, tie them to something secure. By the time the river gets to Taunton this rise and fall can approach 4 feet.

The river throughout this entire area is largely tree-lined with only occasional houses, buildings and pastures visible from the river. For more information on the river below Titicut Street see the description for Titicut Street and the sites below Titicut Street.
This site provides access to the following water bodies in the Taunton River watershed: Taunton River.
Location:
Alternate Site Name: Woodward Bridge
Town: Bridgewater
Nearest Town Center: Bridgewater Center and Middleborough Center
Driving Landmarks: From the traffic circle on US 44 just east of I-495 go north on MA 28 & 18 for 2 miles and turn right at the light onto Plymouth Street. Go 1/4 mile and turn left onto Titicut Street. In 0.2 miles you will cross the river (this is another possible put-in/take-out). To get to Summer Street keep going and in another mile, when you come to the stop sign, bear right to stay on Titicut Street. In another 0.6 miles turn right at the stop sign onto Summer Street. In 0.1 miles look for a short dirt road taking off to the left a little before the bridge. The launch is at the end of this road and there are various places to park along the road.
Access & Waters:
Water 'Features' At Site: flatwater/slow moving river
Note: Because one boat launch can access, say, both a lake and a river or both the upstream and downstream portions of a river, not all paddling trips at a given site will necessarily encounter all of the features listed.
Type of Access: Boat launch for hand carried boats
ADA Accessible Boat Launch? no
Shoreline: gravel slope leading down to the river
Float/Dock: no
Approximate Length of Carry between Car Access and Water: 30 feet
Fees: none
Parking:
Parking: parking lot, 6 spaces, no overnight parking
ADA Accessible Parking Spaces? no
Nearby Amenities:
Public Restrooms: No
Outfitter: Jim Politano rents canoes, kayaks and paddles from his house a few hundred feet west on Summer Street from the bridge and put-in. Call (508) 846-2193 for more information.
Sources for More Information:
AMC River Guide: 4th Edition, page 153
Website: USGS Stream Gauge at Titicut Street
Photographs: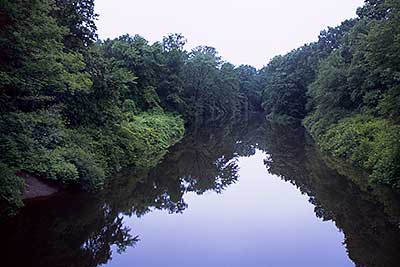 View Upriver from the Summer Street Bridge
Photography by: Bruce G. Hooke
Date of Photograph: July 15, 2010
Looking up the Taunton River from the Summer Street Bridge. The put-in/take-out is the small gravel slope (the brownish-gray area) in the lower left corner of the photograph.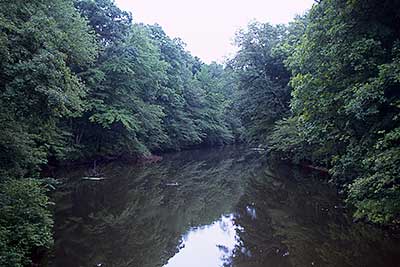 View Downriver from the Summer Street Bridge
Photography by: Bruce G. Hooke
Date of Photograph: July 15, 2010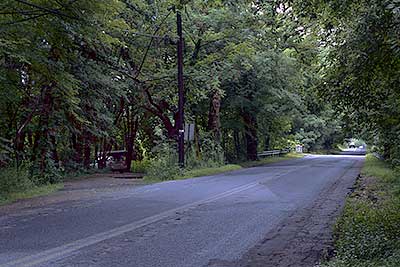 The Side Road Leading to the Landing at Summer Street
Photography by: Bruce G. Hooke
Date of Photograph: July 15, 2010
The short dirt road on the left in this photograph leads to the take-out/put-in next to the bridge.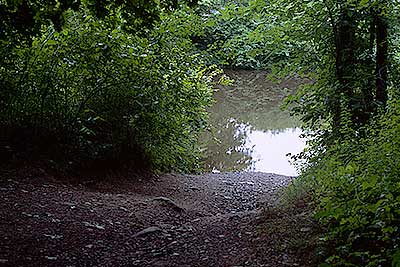 The Path to the River at Summer Street
Photography by: Bruce G. Hooke
Date of Photograph: July 15, 2010
The short gravel slope leading down to the river at Summer Street. Downriver is to the right in this photograph.

Do you have comments, corrections or additions to the information about this site?
Help us work together to make this website better by sharing your knowledge!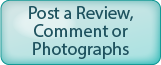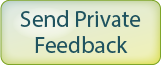 Private feedback goes to the Blueways Alliance/RI Land Trust Council. We'll use your information to make this website better or pass it along to the people who can deal with physical issues at this site. Public comments are posted here (once they've been reviewed and approved) for all to see.
The data on this website come from many sources, including volunteers and organizations across the state of Rhode Island and nearby parts of Massachusetts. We have done our best to make sure the data are accurate and up to date, but any information critical to the success of your trip should be confirmed before you start. The maps and information on this website should not be substituted for nautical charts, topographic maps, or other more detailed maps and guides. We welcome corrections and additions. To send a correction or provide other feedback, please use our feedback form (see link above).
This site report was last updated on August 2, 2010